Introduction
No matter how much disk space you get, how many empty terabytes your PC had when you bought to home, there is one thing you will definitely face: your disk will run out of room sooner or later. You might be surprised at seeing over 20,000 useless items stored on your disk before you make a cleanup for your PC. It can be stressful when you get a message about not enough space on your PC frequently, or it almost drives you crazy when you are getting yourself involved in an important project.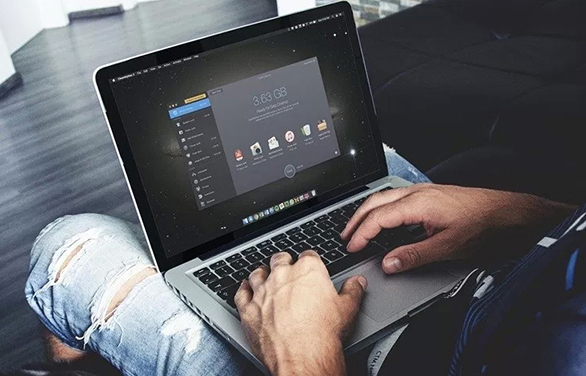 If you are fighting against your disk's storage limit, accumulated data and temporary files, there is a disk cleaner tool you can use to reclaim gigs. The good news is that we will take a closer look at Disk Cleaner Free which can clean up all kinds of files for more disk space and much faster PC running.
---
What Will You Get from Disk Cleaner Free?
As the best disk cleaner software of 2018, Disk Cleaner Free is worthy of a try. It provides a bunch of functions and customizable options to turn a boring disk cleanup into an enjoying process. It accepts uses of any levels, satisfying all kinds of needs. Below we list some main features that you should get to know.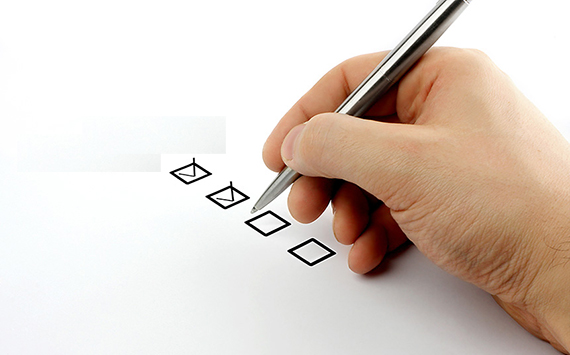 Completely Free
Wise Disk Cleaner Free is totally free to use. It sets no limit that anyone is allowed to download it without paying a penny. Any update or support is provided without any extra charge. Better than that, it is light in size that it won't occupy much system resource. As a virus-free application, you will be assured to use it quite safely.
Clean Up All Disks
It cleans all disks on your PC including hard drives, flash memory and USB drives. Equipped with an advanced scan engine, it can search all useless files scattered in the disks of your computer with great efficiency. You are allowed to get rid of them within seconds for optimal PC performance.
Clean Internet History and Other Traces
It is capable of deleting internet histories, cookies and cache files from various browsers like Internet Explorer, Firefox, Chrome Safari and Opera. All kinds of traces generated by Windows system, applications and other components can be detected and cleaned. Only in this way, can your privacy be protected from hacking or prying.
Securely Delete Files
The file deletion can be secured by its advanced algorithms. The deleted files won't be recovered in whatever ways so that you can be assured with maximum security.
Customizable Options for Disk Cleanup
Before the cleanup, you can receive a message box for confirmation in case of deleting important files. You can use Exception List to set a limit to some certain files and folders for deletion. If needed, you are allowed to remove files with wildcards.
---
Benefits of Disk Cleanup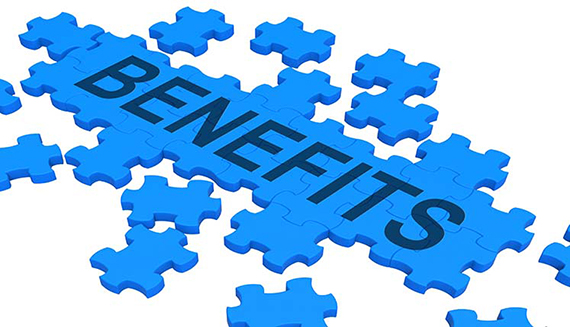 Save time and increase efficiency
You may not want to go through the traditional way of deleting unwanted files by opening folder one by one and finding, deleting files, because it's no wonder a waste of time. You certainly have another choice to use Disk Cleaner Free do the work faster.
Make data organized
Performing disk cleanup is also a process of data organization. It can make your disk data organized in a better way by removing those temporary files, duplicate files, cache files, files from trash bin and many other useless files.
Maximize disk's storage space
Most people clean up their disks for the reason that they want get maximum disk storage space, which leads to boosted PC and functionality improvement. Large disk space can make you feel more relaxed when deciding which files to save.
Make your PC more reliable
Some programs you download from the Internet might make your PC virus infected, no worry, a disk cleanup can get rid of those programs for increasing your PC's reliability.
Protect privacy
Many people might not realize this, the internet history, e-mails, system cache and other sensitive information can be leaked without a thorough disk cleanup. In order to protect your privacy, cleaning your disk is necessary.
---
How to Clean Up Your Hard Disk with Disk Cleaner Free?
Step 1. Choose A Hard Disk to Clean
After downloading and launching Disk Cleaner Free, once you open it, all the disks will be listed in the program window. Check the one you want to clean.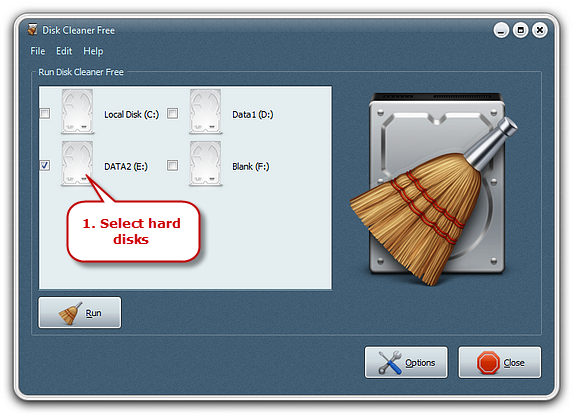 Step 2. Specify Cleaning Settings
Click "Options" button and you will see a lot of options in the new window for disk cleaning. In "General" tab and "Delete files" section, you can choose the way to delete files: Normally remove, Move to recycle bin and Shred. We suggest you check the box of "Display confirmation dialog" in case of the wrong deletion. In "Browsers" section, you can choose to clean cookies, cache and browsing history from Internet Explorer, Google Chrome, Mozilla Firefox, Opera, Safari, etc.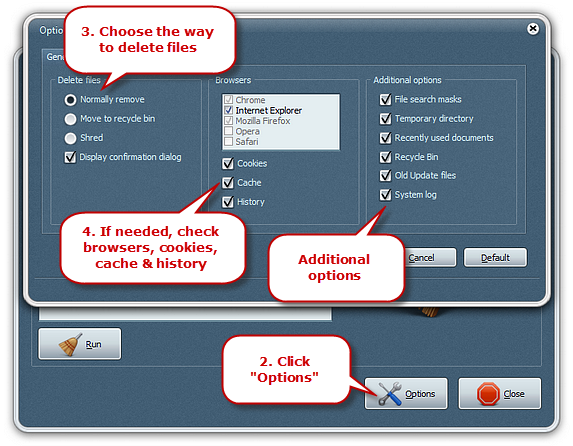 In "Additional options" section, you are allowed to choose some options according to your needs: File search masks, Temporary directory, Recently used documents, Recycle bin, Old update files, System log.
For professionals, they can go to "Advanced" tab to set search masks, file exceptions and directory exceptions.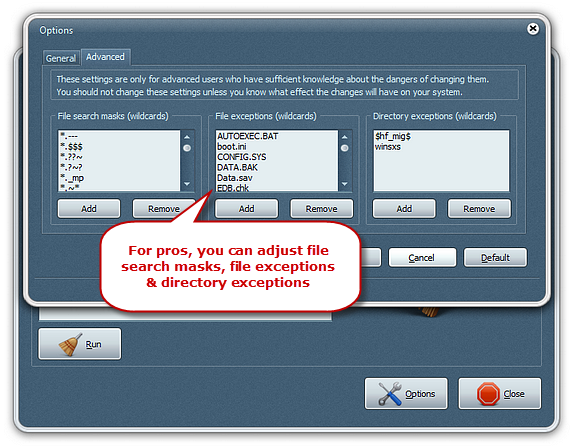 Step 3. Start Disk Cleaning Process
Click "Run" to start disk scanning. After that, all the useless files will be listed and you can use Enable all or Disable all for choosing. Now, click "Next" to start cleaning process.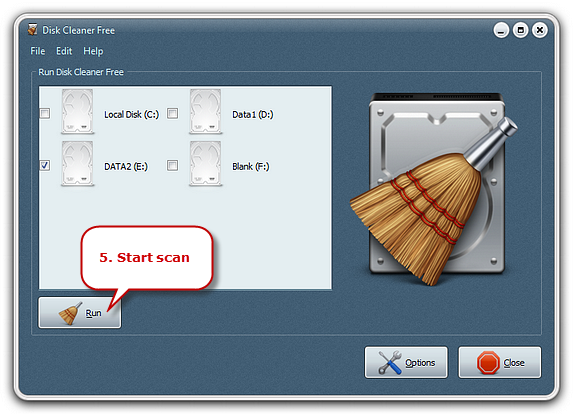 ---
Tips to Free up Disk Space on Your PC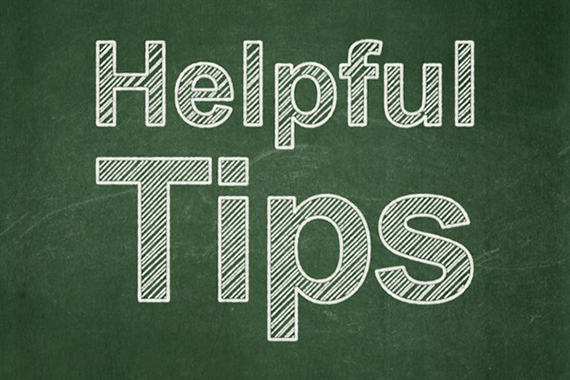 Uninstall Space-Hungry/Unused Applications
For those large-size programs, uninstalling them can free up some disk space. Before uninstalling, you need to make sure their sizes from "Uninstall programs" in the Start Menu.
Clean Temporary Files
When you search something online, some temporary files like caches and cookies will generate. They can take some disk space to some extent, so they need to be removed. Different browsers you use, the way you clean cache and cookies will be different. Before cleaning, just go to check the browser settings.
Delete Duplicate Files
Duplicate files depend mainly on how the computer you use. They will appear when you download a large amount of files from Internet, or perform something with different applications and use file synchronization and so on. Obviously, they will occupy double space in your disk. You can use third-party programs to find and delete them.
Disable Hibernation
Hibernating your system will save the RAM content to your hard drive. You can turn off your PC and come back to get its original state. Thus, it takes up much disk space. We recommend this method for those who are desperate to get more disk space, after all, it's one of Windows' important functions.
Remove Old Windows Updates Uninstallation Folders
Every time when you install Windows updates, you will get old updates compressed in a "WinSxS" folder by Windows. You may not realize that this folder occupies a huge amount of your disk space. To get more space, you need to remove the content contained in the folder.